Susanne Suchar RD, LD/N, CNSC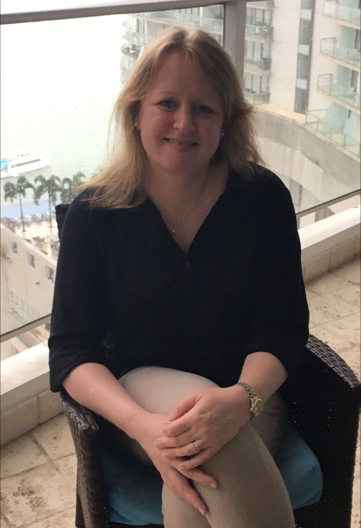 CLINICAL, COUNSELLING & LONG TERM CARE
Susanne responded to my Facebook inquiry about dietitian credentials, since she has some unique letters behind her name. She has a very interesting career path, having worked in numerous settings, in numerous countries. Working as part of a team and collaborating comes through as a consistent theme and something that is important with regards to the unique knowledge and skills dietitians have to offer.
Why did you become a RD?
While weighing my options for an interesting major, having made some changes, I took a class in introductory nutrition. I loved the practical information, so useful in my daily life, as well as the inspirational teacher, who convinced me of the many opportunities the career offered.
What area of dietetics do you work in?
I currently do not work, as my family relocated to Panama, where the profession can be practiced only by citizens of the country. I have spent the last several months on numerous online dietetics-related courses to reactivate my Florida dietitian license, and practicing my Spanish. I am also contemplating my future endeavours, which are likely to include certification as a specialist in gerontological nutrition (CSG) in 2018.
How would you explain what you do?
When I practice dietetics, I always strive to provide the best nutritional care possible for my clients and patients, whatever that implies for the person. You can say I assess the client's nutritional needs and do my best to address them within the available parameters.
What are your 'typical' daily/weekly tasks?
Depends on the setting.
What has been your career path?
Right after graduation I worked at an acute care teaching facility in Miami, Florida, where I was exposed to acute care, rehabilitation, psychiatric care, and my favorite, intensive care. I took CNSD (Certified Nutrition Support Dietitian) certification to be able to work with the Nutrition Support Team, which consisted of the RD, a pharmacist, and a physician, writing most the of TPNs (Total Parenteral Nutrition) in the facility. I preferred working with this team, as it was evident that the team approach improved the nutritional status of the patients, and the RD was a respected part of the team.
After 4 years I transferred to a different acute care hospital, where I continued my intensive care and acute care path, in addition to outpatient care in the Cancer Center and the Diabetes Center. I obtained CDE (Certified Diabetes Educator) qualifications and enjoyed witnessing the effect that my work had on the quality of life of my clients.
As my family relocated to Israel, I had the opportunity to work at a facility specializing in Complex Continuing Care, including ventilation units for adults and children and inpatient dialysis, in addition to rehabilitation for all ages. It was a great experience to practice in a very different type of setting and in an environment where the RD was highly respected; no nutrition related changes could be made without the say of the dietitian.
After some time, I also found my way to Home Health Care, visiting homebound clients and working on improving their nutritional status. It seemed that I was often the only health care worker visiting, and I felt that I addressed more than just nutritional needs. It was extremely fulfilling to see the impact my advice had on the quality of life of my clients and their caregivers, even though it was difficult to see the end of life cases that could not be saved with nutritional care.
After another relocation, this time to Toronto, Ontario, it took me some efforts of networking and volunteering before I was lucky to start Nutrition Counselling over the phone for an EFAP (Employee and Family Assistance Program). While I was frustrated by cancellations and no-shows, I enjoyed those clients that really wanted my advice and saw positive changes in their health. One of my volunteer stints developed into casual employment at a combined Long-Term Care and Complex Continuing Care facility, where I enjoyed working with a diverse and experienced RD staff. At the same time, I did some work at a hospital-affiliated Rehabilitation Center, which I found through a nursing agency.
My most recent job was as a contract dietitian at a Long-Term Care home in downtown Toronto, overseeing nutritional care 3 days a week. Funnily enough, having always consciously avoided this health care setting, I found it remarkably rewarding, being part of the daily lives and seeing the direct impact of my work on my residents.
What advanced education or special training do you have?
I am certified as a Nutrition Support Dietitian/Clinician (CNSD/CNSC) since 2004, a specialty I have kept current over the years. I certified as a Diabetes Educator (CDE) in 2008, but was unable to keep it up as I left the country and could not obtain the hours needed to re-certify. I also took the ADA (now AND) Adult Weight Management Certification in 2007.
In an ideal world, what does the industry look like 5 years from now?
I would love to see the RD being accepted and respected as the expert on nutrition, and that being reflected on salaries and job opportunities. In clinical dietetics, having Nutrition Managers that champion their RDs is a must in this respect, and not often seen in my experience.
What are you passionate about in dietetics?
Having a positive impact in the lives of my clients/patients and their families/caregivers. I have been lucky to find this in several settings over the years, and I look forward to finding my way back there in the future.
Anything else you'd like to add that you feel would be valuable:
Regardless of the setting there is always a need to collaborate with other disciplines, including SLPs (Speech-language pathologists), doctors, nurses, OTs (Occupational Therapists), PTs (Physical Therapists), social workers, family members, and more. It took me a while to realize the marked improvement in the care given when everyone is on the same page.
Being on the same page also means that the client/patient must agree with the plan of care for it to be successful. I can recommend changes up and down the walls, but often see myself having to compromise for the sake of client buy-in and cooperation, and ultimately, success.
More about Susanne:
Email: susannesuchar@gmail.com
LinkedIn: Susanne Suchar
Thanks Susanne!