Noura Sheikhalzoor, RD, MSc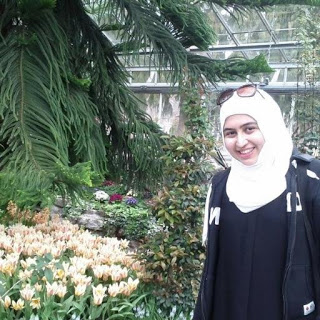 Update: I knew Noura had moved (literally) and also moved on to the next phase of her career. She finished her MSc. and continues to keep busy by adding things like a women's health practice to her repertoire.
We are excited to feature another local Registered Dietitian (RD) today! I worked with Noura on our Nutrition Month campaign, but as you will see, she is very busy and involved in our community. She is both a student and a teacher; Noura is a Master of Science Candidate in Nutrition at the University of Saskatchewan.
Why did you become a RD?
I have always been interested in health. I have a unique journey being a graduate from an overseas dietetics program in the United Arab Emirates. When I first started university, I did not know that a nutrition and dietetics major existed. Once I learned about it, it fired a big interest in me to proceed with nutrition and dietetics as my study and career path. I have always loved organic and biochemistry, biology, and physiology. During the university years, I loved all the science, food and nutrition classes and labs. After the completion of my four years B.Sc. program with a dietetic internship, I moved to Canada with my family.
Becoming a Registered Dietitian in Canada was the second big step in my journey. My family first settled in Mississauga, Ontario, and there, I completed the Internationally Educated Dietitians Pre-registration Program at Ryerson University to be able to practise dietetics in Canada.
Working with people in different settings, in issues related to their health has always been a motivator for me.
What area of dietetics do you work in?
Currently, I am working in research and in university teaching as these are the main parts of my M.Sc. degree. My research interests are: nutrition program planning and evaluation, food security, food environments and food systems. I am involved in teaching parts of some undergraduate nutrition courses at the university, graduate teaching and professional skills. I do some presentations and workshops on my own in academic and community settings on food systems, food and culture, general healthy eating, and on cooking skills. I also volunteer at a few health organizations such as the Canadian Diabetes Association and the Canadian Cancer Society, and food organizations such as the Saskatoon Food Bank and Learning Centre and Saskatoon Food Council.
How would you explain what you do?
In three word: interesting, new, and adventurous. My research lab is the community, which always brings new ideas and allows me to build new relationships. My research project is a program evaluation study, where I am using qualitative research methods to ask about the nutrition knowledge, skills, and behaviours of children after participating in an after school cooking program.
I love teaching and worked as a teacher for years before my M.Sc. program. At the University of Saskatchewan, I am working as a teaching assistant in several courses teaching some labs and facilitating discussion groups, where I enjoy the interaction with students and future RDs (as I love to call them).
What are your 'typical' daily/weekly tasks?
As a researcher and a dietitian, I keep up-to-date with the nutrition information and news, so I typically start my day with a fast read of the nutrition and food news and research articles. I usually have several meetings during my day for event organization or with my research supervisor or students. I also work on tasks related to my research and teaching such as interviewing, reading, writing, preparing a presentation or a research poster. I attend many workshops and learning opportunities live and online on nutrition, health, teaching, and professional development. To do that efficiently, I do lots of planning and communication during my day, so I keep organized and work effectively with people.
What has been your career path? (*updated August 19, 2019)
My career path is unique, but not long. I completed an internship in the United Arab Emirates at one of the largest hospitals: Sheikh Khalifa Medical City – managed by Cleveland Clinic in the three main dietetic practice areas: food services management, clinical, and community nutrition. I completed my dietetics practicum in Ontario in a long term care home's food service and public health unit, and in a complex continuing care rehab hospital. From these experiences, I found that I am very interested in health promotion and disease prevention through community and public health programs and policies. I started my M.Sc. studies in community nutrition to learn more about nutrition programs and policies to improve community and public health. During that time, I worked with programs such as Kids Kitchen teaching grades 4 and 5 how to cook, and helped with Dietitians of Canada's nutrition month campaign in Saskatchewan.
I moved to Mississauga, Ontario, where I joined the Thyroid and Hormones Endocrinology Centre as a consultant dietitian seeing patients living with type 2 diabetes, hypothyroidism, PCOS, and osteoporosis. Beside that, recently, I started my private nutrition practice for women's health: Nourish & Nurture.
What advanced education or special training do you have? (*updated August 19, 2019)
I always seek learning and training opportunities. I have taken courses, attended conferences, and completed workshops and webinars on different topics related to nutrition, health, professional development, and teaching. I took some nutrition courses offered by Dietitians of Canada. I also completed cooking classes from programs: Start from Scratch, Demos for Dietitians, and Collective Kitchens Leadership. I am also working to complete my Master Gardener Certificate from the University of Saskatchewan. I completed my thesis defence at the University of Saskatchewan in August, 2018. In my learning journey, I connect the dots between my different learnings. For example, I am learning about cooking and gardening to have better connection of the food system's elements and better understanding of how they relate to people's lives.
In an ideal world, what does the industry look like 5 years from now?
Speaking from my interest in food systems and experience, in five years I would like to see more dietitians involvement in food systems issues providing evidence-based knowledge and information in the communities to improve their food security status and health. I also see dietitians filling a variety of roles in improving the health of the community and the food system, where food is celebrated from farm to fork. I would like to see more dietitians improving current policies in food and nutrition and making new policies that make a difference in improving population health.
What misinformation about RDs would you like to clear up?
There is misinformation about RDs in the community. Many people think that we work only in weight loss or that we are the food police. We do much more than weight loss meal plans. Our roles are diverse and we connect the issues related to food and nutrition on different levels: individuals, groups, communities, and nations. Dietitians are not the food police. We love food and that is why we work closely with it and keep talking about it. Many people think that dietitians don't eat enough or don't enjoy eating. In reality, dietitians eat all kinds of food and enjoy it as mindfully as possible. There are many foodie dietitians too (unfortunately I am not one of them, but I am always happy to see and know them)!
What are challenges you encounter as a RD?
Any profession has its own challenges. Food is a sensitive topic and something that is very closely related to everyone's culture and beliefs, so challenging pseudoscience and people's beliefs in nutrition myths is really hard.
What are you passionate about in dietetics?
I am passionate about all aspects of dietetics. I am passionate about food and health and human interactions with them and the everyday trends that we see. Specifically, I am very passionate about improving the food systems and community health and interested in upstream thinking. I am interested in health promotion and disease prevention through healthy eating and positive lifestyle changes.
What makes RDs unique/different from other nutrition/wellness professionals?
No one can call themselves a dietitian or registered dietitian in Canada unless they have the proper qualifications. This means that our profession is regulated to protect the public, because RDs are evidence-based and they have a comprehensive understanding of science, food, and human behaviour. Also, RDs are much cooler!
What is your favourite meal?
My favourite meal is breakfast! I feel really creative with it and look forward to it every morning. I like to include a protein, carbohydrate and fibre, and a healthy fat source. I use whole grains, dairy, and seeds when I eat hot or cold cereal in the morning or when I make a sandwich or an egg dish. Speaking of breakfast, I will show you a breakfast that is inspired from my cultural background. Here a Syrian breakfast, where people have a variety of small dishes that include: egg (hard boiled or scrambled), Syrian cheese, jam or honey, herbs blend (zaatar) with olive oil, fava beans or chickpeas, pickled eggplant with nuts, vegetables, and more. Syrians like to drink tea with that and they use pita bread to eat some of these foods.
What tip(s) would you give to our readers?
I would like to give the readers the following tips:
· Eat food mindfully and enjoy the process of selecting, preparing, cooking, and eating.
· If you can have a food garden or grow some food or herbs indoor, do that.
· Learn about your food by reading and talking to people (or a RD) about it. Read food labels. Try new recipes.
· Learn about other people's cultures and food. It could inspire you in so many ways.
· Keep working towards your career passion and keep improving your professional skills.
Anything else you'd like to add that you feel would be valuable:
I always say that: everyone eats, so everyone is interested in nutrition and touched by food everyday multiple times a day, and that is why our job is very important. Always remember that RDs are always on your side!
More about Noura: (*updated August 19, 2019)
Twitter: @Nouraszoor
LinkedIn: Noura Sheikhalzoor
Website: Nourish & Nurture
Instagram: @noura.sheikhalzoor.rd
Facebook: Nourish & Nurture
Thanks Noura!