Moushumi Mukherjee, MS RDN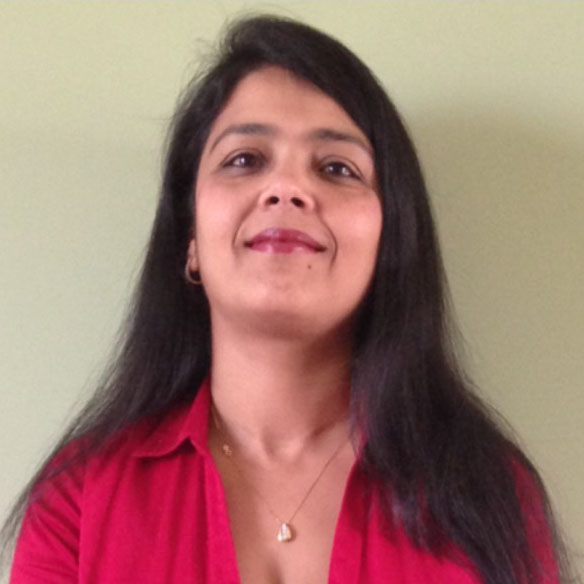 CONSULTANT, CORPORATE DIETITIAN & COACH
Food has strong memories for us, so it's interesting to see when something from our past inspired us to become a dietitian as well. Like Moushumi, the practicality of nutrition was a reason I enjoyed studying it, then going home and applying it. She works in a variety of settings, but reminds us that food is not just about weight (as the diet industry wants people to believe), but comfort too.
Why did you become a RD?
Most all of my childhood was spent in India. Growing up I saw my mother using food and especially spices in various forms for healing, sickness, little cuts/bruises and so on. My father had a high profile and stressful job in India. He was able to handle all of this with a lot of ease due to doing yoga everyday along with being conscious of what he was eating. We grew up in the comfort of home cooked nutritious simple meals every single day made by mom with lots of love and I am trying to do the same for my family. All of this inspired me to explore the science of food and nutrition. I take a lot of pride in being a dietitian especially because our field is one where we can use science and what we learn in every day living.
What area of dietetics do you work in?
I started out working as a community dietitian, then worked in the hospital setting for a little bit. Once I had kids I started my own consulting business with many different corporate groups, working at long term, assisted livings and hospice and home care as well. I also have worked with some food chains and corporations/physicians doing wellness and have really enjoyed this as well.
How would you explain what you do?
When in nursing homes I do nutritional assessments of high risk residents/attend and conduct nutrition at risk meetings. I meet with my patients one-on-one and come up with a plan and put interventions in place for the best suited diets for their present condition. I also develop menus and do kitchen sanitation checks at regular intervals if the facility needs me to do this.
What are your 'typical' daily/weekly tasks?
*As above.
What has been your career path?
I did my entire primary schooling in India and got a graduate degree in human nutrition from India. I did get an MS from Michigan State University in Human Nutrition and got registered as a dietitian after that.
What advanced education or special training do you have?
I am a registered dietitian with a masters degree in Human Nutrition.
In an ideal world, what does the industry look like 5 years from now?
This is one area that will be in demand 5,10,15 years from now. My thoughts are that with the stressors in todays lifestyles we will see more diseases and dietitians working wonders in preventive care.
What misinformation about RDs would you like to clear up?
One misinformation that people have I think is that they think of dietitians as weight loss people. That is so not true. Just like with other professions dietitians specialize in various fields. Some do work with weight loss, but there may be some like me who work with hospice patients and believe in comfort foods.
What are challenges you encounter as a RD?
I think the biggest challenge for RDs in today's world is that anyone and everyone can call themselves the health guru, publish information that may not be backed by any scientific evidence and start prescribing diets for various conditions. My advice is to please look at the educational background and experience of someone before starting on a specific diet. There is a reason we are registered by the American Dietetic Association.
More about Moushumi:
LinkedIn: Moushumi Mukherjee
Thanks Moushumi!