Ashlee Linares-Gaffer, MS, RDN; Kathryn Lawson, MS, RDN; Haley Hickman, MS, RD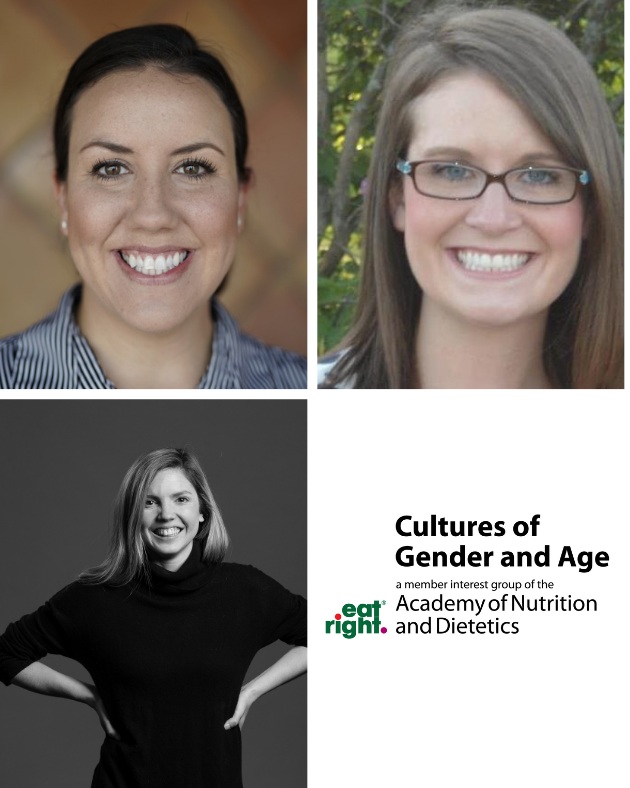 CULTURES OF GENDER AND AGE MEMBER INTEREST GROUP
In an effort to encourage involvement at the local and state level with organizations that push the profession forward, Dylan Bailey, recommended his colleagues from the Cultures of Gender and Age (COGA) Member Interest Group (MIG) of the Academy of Nutrition and Dietetics (AND) to the series. Ashlee, Kathryn, and Haley are select Executive Committee Members of the COGA MIG whose membership is diverse and features RDs from different genders, sexual orientations and ages. These women have different backgrounds and work in very different settings, hence the importance of groups like COGA.
Ashlee Linares-Gaffer, MS, RDN
Why did you become a RD?
I went into college uncertain of what career path called to me; however, I was very clear on two priorities. I wanted to know that my degree would provide me with unwavering job security and a livable wage, and I knew that I wanted my career to allow me to help others. These priorities led me to pursue nursing and shortly before submitting my application to nursing school I completed a required introductory nutrition course. I had never been so interested in a class and I read my textbook from cover to cover. I think that the content called to me because it provided clarity about the basic components of food, a topic which had always been confusing to me. The instructor for the course was a Registered Dietitian (RD) (which I had never heard of) and after further exploration of the career opportunities in dietetics, I realized that was the path for me.
What area of dietetics do you work in?
I work in higher education at a large public university. I also sit on the executive committee (EC) for COGA as our Diversity Liaison.
How would you explain what you do?
As a faculty member, I teach nutrition classes online and in-person, I coordinate an ISPP (Individualized Supervised Practice Pathways) internship and I manage undergraduate academic advising services. As a teacher, my responsibility is to teach courses and to support students by providing career guidance, reviewing resumes, writing recommendation letters and helping them with other things. As an internship coordinator I talk to preceptors and new partners to describe the program, plan rotations and schedules which allow interns to demonstrate all of the required competencies, plan field trips and group project guidelines, and write new policies, procedure and work plans. This is a very simplified description. As an advising manager, I make sure that academic advisors have the tools and information they need to best serve students and I advocate for more resources when they are needed. I also help plan, coordinate and participate in recruitment activities and oversee an advising center where students can come to study and meet with advisors.
Each of my roles is different but all allow me to teach and mentor students at different stages of their careers. Being a dietitian in this setting provides me with unique insight and perspective that I can share with aspiring dietetics professionals, and which are based on my own personal experience navigating the process to become a dietitian. It is also fast paced and allows me to stay busy with a variety of tasks so I never get bored.
What are your 'typical' daily/weekly tasks?
In my job, there is nothing typical about any day or week which is why I love it. There are days or parts of days when I get to work alone in silence, writing assignments, grading, and working on projects. Other days may be filled with a combination of meetings for committees, projects, one on one meetings with staff, teaching, or meeting with students to talk about class and career planning. I also spend about two full days each month with my dietetic interns and on these days we go on field trips of local agricultural businesses or we work together on campus on large projects such as planning community outreach events. Another reason I love working in higher education is that there is a common expectation to engage in lifelong learning. I get to go to seminars, workshops and conferences just about anytime they are relevant and I am available. I also get to take classes at a great discount which means I can always be advancing my knowledge and skills. I participate in some sort of professional development at work almost every week.
What has been your career path?
I was pregnant with my first daughter during my 1 year combined masters and internship and she was born within two weeks of my graduation. I took about 9 months off to spend time with her after she was born before I felt ready to find a job. My first job as a dietitian was working at a residential eating disorder facility for adolescents. I had no previous experience and a very limited understanding of eating disorders prior to that and although I found the work interesting, I felt like "a fish out of water" and I quickly knew it was not the area of practice where I could be most effective or satisfied. Within three months, I had taken a job as a full time academic advisor where I advised about 300 dietetics students and about 300 non-dietetics nutrition majors. I found this work to be extremely rewarding because I was able to practice my counseling skills and share sound guidance to students so that they could be more successful at achieving their academic goals. My role as an academic advisor evolved into all of the exciting things I do now as a result of always being willing to volunteer for new duties and sharing my vision and ideas about the department openly with others. Over time, I have also become increasingly involved in the Academy of Nutrition and Dietetics because I see the opportunity to drive some of the changes I would like to see so that the organization better serves me and a new generation of dietetics professionals that is increasingly diverse and innovative.
What advanced education or special training do you have?
I completed a combined MS/DI (Masters/Dietetic Internship) program and I have also taken several graduate classes in public health and education over the past several years. I am also a trained facilitator for the licensed Body Positive curriculum and maintain CPR/First Aid certification. I hope to one day earn a doctoral degree.
In an ideal world, what does the industry look like 5 years from now?
In an ideal world, the profession of dietetics would increase in diversity substantially, particularly on the basis of gender, race and ethnicity. We would have dietetics professionals available to serve and relate to all American residents, and to lead nutrition-focused businesses that meet the needs of consumers. The healthcare industry would acknowledge the value that dietitians play in healthcare in every state; dietitians would be eligible for reimbursement for a robust list of disease prevention and management services and dietitians would be able to write diet and nutrition-related orders in all clinical facilities. Every K-12 school would provide mandatory curriculum on food, nutrition and physical activity in order to empower future adults to understand how to lead healthier lives on any income. Finally, all legislators would call on dietetics professionals when drafting legislation which impacts the health of their constituents with regard to food access, health care, and agriculture, among others.
What misinformation about RDs would you like to clear up?
All dietitians do not receive identical training, do not have the same expertise and do not share identical viewpoints. Too often, people generalize their idea about what dietitians know, do, and can offer. In reality, dietitians can practice an extremely diverse range of settings and there are dietitians who are highly knowledgeable in different areas and there is not always a certification to signify that to the general consumer. For example, some dietitians are particularly knowledgeable about policy, agriculture, or nutrition education but there are not certifications for these practice areas as there are for population-specific specialties such as pediatrics and geriatrics.
What are challenges you encounter as a RD?
People always want to hear my opinion on the latest diet or food trend and assume I am out of the loop if I don't know everything about it. Like many dietitians, I don't always feel that it is a valuable use of my time to keep up on every detail of the plethora of food and diet information that is floating around. I am not saying that dietitians should not keep up on these trends; I just find it challenging to always have to be prepared to answer on the diet of the day to any stranger I may meet at any day and time.
People sometimes judge and comment on my food choices, unsolicited. I have also had judgments made about my body because people have an image in their mind of what size and shape a nutritionist should be, that is different from how I look.
What do people think that you do for a living?
People think that I tell other people, including my students how to eat, and what not to eat, which I do not do. To be honest, very few people understand what I do for work. Many of my own colleagues do not quite understand because I wear several unique hats that are not typical of other faculty members in my department.
Kathryn Lawson, MS, RDN
Why did you become a RD?
Originally, I didn't want to become an RD; I wanted to become a biomedical engineer. But one day, I woke up and wanted to go to a different college (one closer to home) and needed to find a new major. I have always had a passion for food and helping people, and from day one of orientation, I knew dietetics was the right career for me.
What area of dietetics do you work in?
I work in the food industry as a Regulatory Affairs Specialist for Nestlé USA. I am also the Chair-Elect for COGA.
How would you explain what you do?
I work with marketing and product development by helping to substantiate claims, ensure ingredient safety, and design products that enhance the consumer experience.
What are your 'typical' daily/weekly tasks?
It really varies by day and week, which is one of the main reasons why I love what I do! I spend a lot of my time in meetings with a cross-functional team during the product development process. I also validate recipes, translate evidence-based science into possible claims, and review product packaging for regulatory compliance.
What has been your career path?
After completing my Masters/Dietetic Internship program, I started working in long term care at a small facility in rural Vermont. It was part time, so I also got a job working in college food service for Sodexo. In that role, I helped students with eating disorders, food allergies, and other general nutrition needs. It was a lot of fun! However, I have always been interested in the policy and advocacy side of nutrition, so when a job opened up with Keurig Green Mountain in their regulatory affairs department, I jumped at the opportunity! Since then, I have moved from Vermont to Washington, DC to work for Nestlé USA, but still work in regulatory affairs.
What advanced education or special training do you have?
I have a Masters in Dietetics. I also completed a study abroad experience in International Food Law during college, which was really my only experience in regulatory affairs. I have had to learn most of my regulatory knowledge through hands-on experience.
In an ideal world, what does the industry look like 5 years from now?
In an ideal world, I think the industry will see more growth in individualized nutrition and the need for dietitians to not only be at the table, but leading the conversation when it comes to nutrition, health and wellness.
Haley Hickman, MS, RD
Why did you become a RD?
Shared meals were inherent to my childhood. I come from a large extended family, so we always had a reason to celebrate. And whether it was decorating cookies at age two or having salad duty as a teen, I loved helping my mom when she hosted. When it came time to choose a college major, I had no questions. I was going to study food, so I became a dietitian.
What area of dietetics do you work in?
I'm an account executive at FoodMinds, a division of Padilla, a food and nutrition communications and consulting agency specializing in nutrition science and food & nutrition affairs. I also sit on the EC of COGA as the Regional Meetings and Networking Chair. The skills for both roles are quite complementary.
How would you explain what you do?
Related to COGA, our EC is tasked to re-envision the MIG's offerings to better serve our members. Our group was formed just last year through the merger of three subgroups (Fifty Plus in Nutrition and Dietetics, Thirty and Under in Nutrition and Dietetics and the National Organization of Men in Nutrition). We can't wait to unveil new opportunities to network, learn and grow in the coming year. Academy members, we hope you'll join us (simply contact the Academy's membership team at membership@eatright.org or join through your MyAcademy profile)
In my day-to-day job, I translate food and nutrition science into easier-to-digest content for consumers. Among other things, FoodMinds is known for our niche expertise in food and nutrition affairs and sustainable nutrition. We support a variety of clients, so the programs and projects are tailored to their unique health and wellness objectives. Sometimes we're correcting misinformed perceptions; other times it's communicating new research or providing counsel on specific food and nutrition issues.
What are your 'typical' daily/weekly tasks?
The best part of my job is having the opportunity to use both the left and right sides of my brain. As much as I love the challenge of science or nutrition analysis, I also have the opportunity to get creative with content development and event planning. Every day looks different, but daily skills that transcend are attention to detail, good communication and adaptability.
As part of COGA, again, tasks fluctuate across the course of the term. My responsibilities were focused around the Academy of Nutrition and Dietetics Food and Nutrition Conference and Expo™ (FNCE®), including organizing our booth and member networking meeting.
What has been your career path?
After receiving a bachelor's degree in dietetics from Florida State University (Go Noles!), I attended the University of Mississippi for a coordinated dietetic internship program. As part of my elective rotation, I set up a short internship with FoodMinds, and knew immediately that nutrition communications was exactly what I wanted to do. I applied to FoodMinds' summer internship and was promoted to a full-time position six months later. I'm so fortunate – it really is my dream career.
External to my job, I actively participated in a few relevant organizations but wanted an opportunity to take on a new challenge in an extracurricular leadership position. I felt COGA's mission to promote diversity in our field resonated with my personal goals, so I reached out to the Academy to inquire about opportunities.
What advanced education or special training do you have?
Leaving grad school, I had a solid grasp of nutrition science. Business classes, however, are pretty rare in traditional dietetics curriculums, so I faced a steep learning curve as I stepped into my first job. Luckily, I was surrounded by bright and supportive mentors who shared their wisdom through informal training. (I've learned there are few things more satisfying than a perfectly formatted PowerPoint presentation.)
FoodMinds also offers opportunity to partake in more formal development opportunities, like advisors programs, webinars and conference attendance, that are tailored to our professional goals.
In an ideal world, what does the industry look like 5 years from now?
More diverse. Our food values are shaped by our cultures and unique experiences. We can only offer our best counsel as an industry when our base of practitioners represents the breadth of folks that make up our society.
What would you like people to know about RDs?
My mantra is: all foods fit. For the general population, if you enjoy eating something, RDs can help you find a way to consume it within the context of a healthy diet. I wish for everyone to get to a place where they can unconsciously balance the nutrition and pleasure of eating.
Anything else you'd like to add that you feel would be valuable:
I'll leave it to the late Anthony Bourdain. "Meals make the society, hold the fabric together in lots of ways that were charming and interesting and intoxicating to me. The perfect meal, or the best meals, occur in the context that frequently has very little to do with the food itself."
More about COGA:
Website: Cultures of Gender and Age
Facebook: Cultures of Gender and Age - COGA
Email: cogaleadership@gmail.com
Thanks ladies!